Welcome to the Swindale / Swindell Homepage

It's not hard to guess that I love cars, I hope to give you some really neat links to the best car homepages I've found & by the way this is me with my eldest son Noel.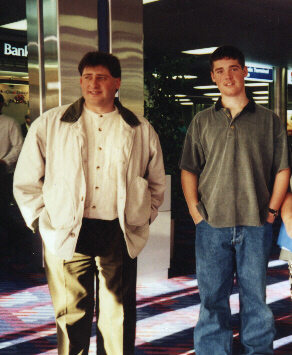 I'm looking for any information on the Swindell family. My earliest find in New Zealand is Joseph Swindell, a watchmaker/jeweller, his wife Elizabeth and their children Alice, James, Joseph, Mary Ann & Emma. Joseph Snr started work here in Christchurch for G.Coates & Co. They came from Middlesex, England. Emma, Joseph jnr, Mary Ann and Alice all sailed on the ship "John Temperley" leaving 10th March 1886 and arriving 21st June 1886. James sailed a year later on the ship "Lancashire Witch" leaving on 2nd April 1867 and arriving on 29th July 1867. I haven't found any records relating to Joseph and Elzabeths sailing to New Zealand but presume they came with their children on the first sailing. It is thought that Joseph Snr was brought here to work on the Jubilee clock tower that was first in High st and later moved to Victoria st, Christchurch. Joseph later started his own watchmaking/jewellery business in 1875 and later his son joined him making J.Swindell & Son from 1880 - 1905. There are some interesting photos of the silversmithing that they did at this time, some of their work I think is able to be seen in our local museum. The records I've found to date state that Joseph died in Christchurch on 1st July 1880, Elizabeth was buried along side Joseph on the 26th December 1897. James carried on the business until his untimely death 10 years after his father in 1890. I havn't found out anything beyond this point in terms of the family business but at one point James changed his own and all of his childrens surname to Swindale. I'm particularly interested in hearing from any Swindells originating back to England at around the 1860s.
An Overseas Job Link
New Zealand Clasic Car magazine
Caterham Cars
Kitcars

The Swindale Family formally known as "Swindell"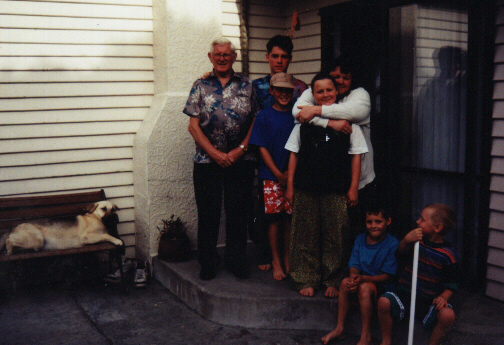 My Dad(Deaf),Noel,Brad,Sandy,Letitia,Marcus & Mitchell. Thats our now departed "Cloud" on the benchseat.


Email: dccs@ihug.co.nz